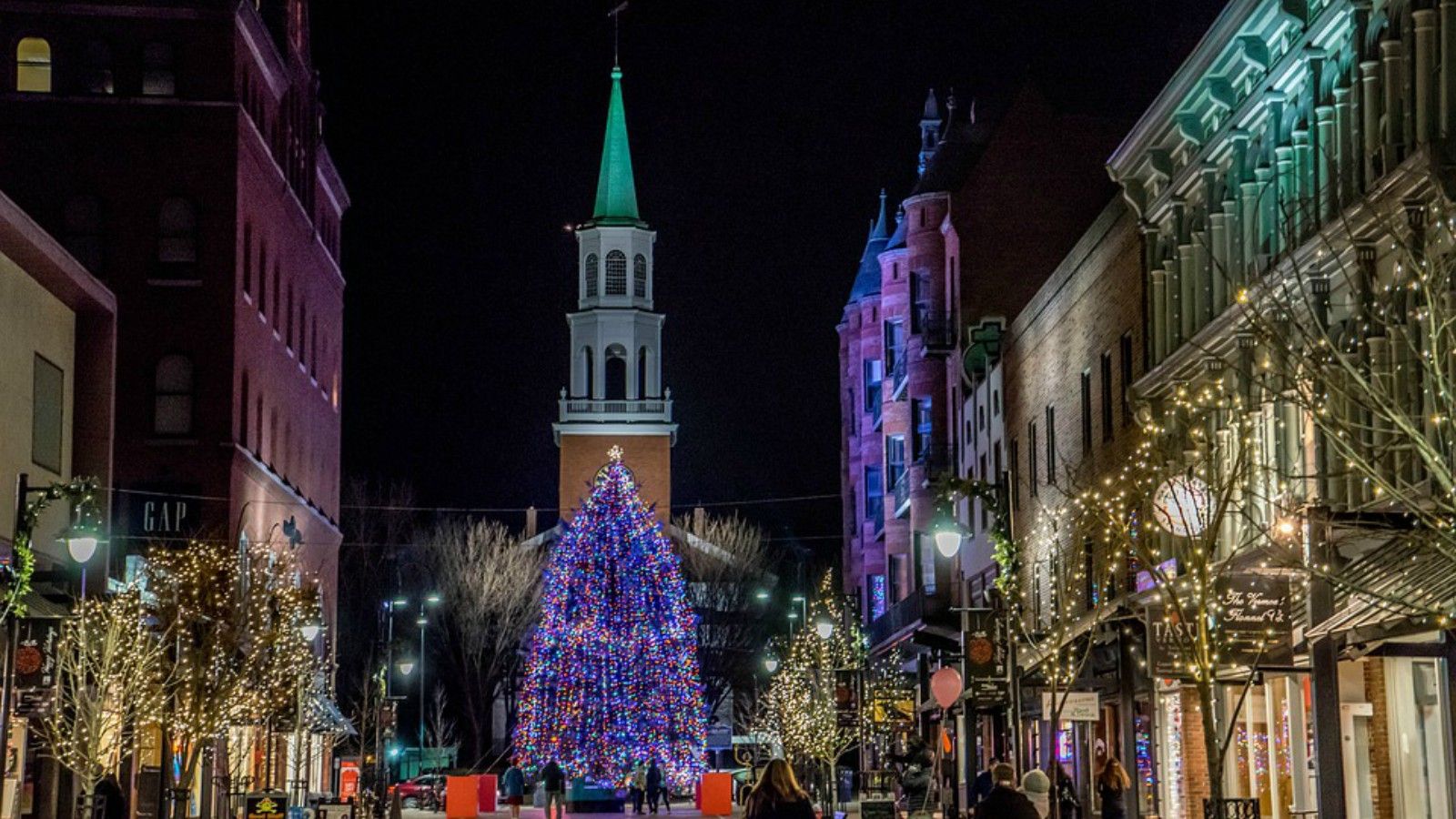 Church Street Marketplace Burlington, also known as Burlington Town Center, is the heart and soul of downtown Burlington. Encompassing both an enclosed shopping mall totaling nearly 300,000 square feet of retail space, and an outdoor four-block pedestrian only mall, Church Street features both nationally recognized chains such as Macy's, Banana Republic and Patagonia, along with specialty shops such as Moose Tattoos, Ten Thousand Villages and Kiss the Cook.
In addition to being a great place to find a unique Vermont treasure, Church Street Marketplace is the center for year-round activities. From the Saturday Burlington Farmer's Market during the summer and the annual 4th of July fireworks celebration, to various festivals including the Burlington Jazz Festival, the Festival of Fools and First Night Burlington, Church Street attracts visitors and locals alike.
Once the sun sets, Church Street remains alive as the numerous restaurants, pubs and local coffee shops bustle with activity. Some of our local favorites include:
Ake's Place: the self-described "Rock and Roll Sports Bar" is the place to catch the big game
Bluebird Coffee Shop: featuring delicious pastries, lattes, cappuccinos and more
Church Street Tavern: one of the best places for people watching or sitting outside with a local Magic Hat brew
Dobra Tea: a Bohemian tea room serving over 90 imported varieties of fresh loose leaf tea
Leunigs Bistro: Burlington's Parisian Café with live jazz music Tuesday – Thursday
Red Square: Burlington's live music capital with entertainment seven days a week
Three Tomatoes Trattoria: a landmark of Church Street for over 15 years, serving rustic Italian cuisine
Church Street hours

Store hours vary, with retail stores typically opening at 10:00 AM
Restaurant hours vary depending on type business model, with several pubs remaining open until 2:00 AM

Admission

There is no admission to enter Church Street, window shopping is free!
Pets are permitted to the outdoor shopping promenade, specific store and restaurant policies vary
Bicycle riding and skateboarding are not permitted throughout Church Street Marketplace

Transportation: Church Street is approximately 1.5 miles from our Burlington hotel

Please expect a 5 minute drive

Parking
Learn more about things to do in Burlington.